May 2011 (5 years ago)
New album releases: Born This Way - Lady Gaga; Torches - Foster The People; This Is Country Music - Brad Paisley; Hot Sauce Committee Part Two - The Beastie Boys
On the 1st, Pete Townshend makes #47 in The Sunday Times Fifty Richest British People in music. They estimate his personal wealth at £40m.
On the 8th, Pete's literary agent, Ed Victor, begins shopping Pete's autobiography to publishers. The proposed title is Pete Townshend: Who He? On the 17th, Harper Collins is declared the victor.
On the 13th, Roger Daltrey gives in impromptu concert aboard the Queen Mary 2 during its passage from England to New York City. From a stool on the stage of the Royal Court Theatre, Roger performs songs by Hank Williams and Johnny Cash while telling the audience of his origins as a musician. The hour-long show is part of a seagoing songwriting seminar led by Chris Difford of Squeeze.
Billy Iuso releases the album Trippin' featuring a New Orleans-style cover of "Magic Bus".
On the 27th, Pete is interviewed in Intelligent Life magazine. He says he is one-third of the way through writing his autobiography and it is already 80,000 words long.
---
May 2006 (10 years ago)
New album releases: Stadium Arcadium - Red Hot Chili Peppers; Taking the Long Way - Dixie Chicks; 10,000 Days - Tool; Eyes Open - Snow Patrol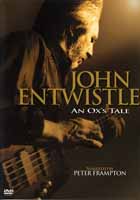 On the 1st, Justin Kreuzman's documentary John Entwistle: An Ox's Tale is released on DVD in Japan and the U.K. The U.S. DVD release follows on August 22.